Clients & Testimonials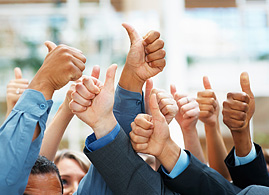 Letters of Recommendation
Take a moment to browse through some letters that clients have shared with us...
Clients who typically engage Emerging Leaders Institute in projects are invested in developing their employees. They are progressive thinkers who understand that strengthening cultural aspects of their businesses leads to increased bottom line results. They also leverage the power of fantastic working environments to attract and retain key people within their organization.
Clients also partner with Emerging Leaders Institute because they want a firm that treats them with the utmost care and service. They want the dedication, and accessibility to the consultant they have with Eli. We take our commitment to you seriously.
BloomBoard
Brunner Inc.
Eaton Corporation
First Energy
Frank Fuhrer Wholesale Company
Giant Eagle Corporation
GlaxoSmithKline
Graham Healthcare
Grizzard Company
Hefren Tillotson
Industrial Scientific
Joy Mining Machinery
Lanxess Corporation
LM Wind Power
Medrad
Ohio Savings Bank
Peak Performance Management
Penn United Technologies Inc.
Phillips
Premium Molding
Progressive Insurance
Provident Insurance
RC Holsinger Associates P.C.
Soccer Shots LLC
TE Connectivity
True Fit Solutions
Turner Diary
Non-Profit Clients Served
Carlow University
Carnegie Mellon University SEI (in collaboration with the Maue Center)
Case Western Reserve University
Chagrin Falls School District – Gurney Elementary School
Coalition for Christian Outreach
Geneva College
Abbey Delray & Abbey Delray South - Lifespace Communities Inc. (in collaboration with the Maue Center)
PA Cyber Charter School
Point Park University (in collaboration with The Maue Center)
Presbyterian Senior Care (in collaboration with The Maue Center)
RiverQuest
University Of Pittsburgh Institutional Advancement
University Of Pittsburgh CTSI
UPMC
VA Hospital Systems of Pittsburgh (in collaboration with The Maue Center)
Williamson Free School of Mechanical Trades