"I am really interested in helping leaders become more effective in their abilities to create the future of their organization. The intersection of business success and leadership effectiveness is the type of development we are after at Eli."
Timothy Edris is a team and leadership development specialist. He has over 15 years of experience designing and implementing corporate and university training programs ranging from 10-person team-building sessions to 120-person managerial leadership programs. Tim is the principal consultant at Emerging Leaders Institute. He has a deep passion to develop leaders who will transform the world around them.
He has a Master's of Science of Organizational Leadership as well as certifications in various OD tools and instruments. Tim is a coach who knows how to develop the potential of the people he mentors. He has coached Presidents/CEO's down through middle managers. He has a knack for creative design and the execution of organizational learning experiences, which are memorable, and help transfer learning to rising leaders' hearts and minds. Tim also has the ability to uncover the truth about the culture of an organization's leadership that illuminates the way to healthy leader development. In addition to highly creative means of program design, he has taught in more traditional settings at the collegiate level and other adult environments for over 12 years.
Tim is married to Anna Luz Edris and resides in Beaver Falls, PA. He is bi-lingual in sign language and English. In his spare time he wrangles the busy schedules of his two little girls, and is an elder at a local church.
Jeanine F. Blackburn Ph.D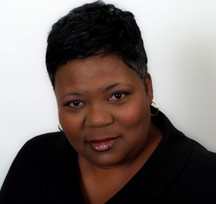 Jeanine F. Blackburn Ph.D
Dr. Jeanine Blackburn is a learning & development manager who has 20+ years of consumer package goods experience and has over a decade of experience designing, developing and implementing corporate training programs for entry level to upper management associates. She has also designed competency models to help organizations to identify core competencies for their associates.
Jeanine has a Ph.D in Instructional Management & Leadership from Robert Morris University, an M.S. in Human Resource Management with a concentration in Training & Development from LaRoche College and a B.S. in Business Administration from Point Park University. In addition, she has certifications in various OD tools and instruments including Lean/Six Sigma.
She has done extensive research on the theory of andragogy and differentiated instruction. Her published dissertation "Differentiated Learning Modules for Corporate Training Based on Learning Styles", focused on the benefits of customizing training based on employees learning styles. She has interviewed numerous training professionals throughout the United States to obtain information along with her research results to support her theory that individuals learn best when training is differentiated to meet the learners' needs.
Jeanine is married to Russell Blackburn Jr. and resides in Kennedy Township, PA. In her spare time she helps mentor high school students, enjoys scrapbooking and spending time with her family.
Francois Guilleux has been passionately facilitating experiential leadership development for over 20 years in educational and business environments.
Francois works with CCO's Experiential Designs where he directs business development and leads its efforts in offering clients creative opportunities for transformation. He also consults for Emerging Leaders Institute, a boutique leadership development firm. Over the last decade, Francois has focused on serving internal and external partners going through change management efforts in the corporate, non-profit and Higher Education sectors.
Francois' areas of specialization include: adaptive leadership, team development, group and organizational diagnosis, and highly creative experiential designs and facilitation. He is a certified practitioner with the Leadership Circle Profile™, the Immunity to Change™ and the Subject-Object Interview, three powerful tools for leaders ready to take a deeper dive into their development.
Francois is a leadership educator at heart. He has taught or co-taught leadership and organizational change courses at Harvard University, Teachers College Columbia University, and the University of Pittsburgh. His research focuses on adult development and leadership education. He recently contributed a chapter in the book Social Justice Leadership for a Global World on the dispositions that facilitate leaders to learn from their failures.
He holds a master's degree in education from Harvard University and a Ph.D. from the University of Pittsburgh where he was involved in the radical redesign of the Principal Certificate Program.
Earlier in his career, Francois worked with adjudicated youth in wilderness programs and then served as a site coordinator in the development of a risk prevention collaboration between Boston public schools, Massachusetts General Hospital and Harvard University. He stays connected to his outdoor roots by teaching backcountry medical care for the oldest wilderness medicine school in the country.
In his other life, Francois can be found with his wife, dust-covered in the midst of renovating a home from the 1890's in the East End of Pittsburgh or sharing time with their daughter as she discovers the world.
Tom holds a commitment and talent that evoke innovation and achievement – including the capabilities of self-awareness, leadership, collaboration. To Tom, you can give substance to an idea and build performance toward your goal - or you can undermine or under-serve them. When the factors are right, the resulting energy and speed are remarkable experiences.
With thirty plus years executive experience in global corporate, consulting and start-up settings, he founded Auorm and is the Managing Principal. Tom is also the Board Chairman for the not-for-profit organization Welcome Johnny and Jane Home, a volunteer organization with a mission for citizens to listen and vets and their families to express their experience in military service.
Tom's consulting focus is Executive Coaching, Leadership, Creative Collaboration, Agility and Program Performance in product teams and operational teams.Tom has a Masters of Business from Case Western Reserve University in Cleveland. He lives in both Palm Springs and Newport Beach California.
"In a world full of complex challenges in both our workplaces and communities, it is essential that people employ collaborative strategies to create the change they seek." ∼ Seth
Seth combines his unique mix of professional experiences to build individual and organizational capacity in three distinct areas: policy & advocacy, leadership development, and strategic thinking. He believes that by increasing the capability of individuals and strategically addressing organizational issues, we create better-functioning relationships, workplaces, and communities. Working across the business, government, and nonprofit sectors, Seth has engaged diverse groups of people from community activists to business executives. He has facilitated teams both large and small to tackle complex challenges, address inter-personal dynamics, and produce results.

In addition to working with Emerging Leaders Insitute, Seth is the Managing Partner at The People Group -- A consulting practice that works at the intersection of public policy and leadership development. Prior to launching The People Group LLC, Seth led strategic and organizational development initiatives for the Allegheny County Controller's office in Pittsburgh, PA, managed global executive education programs at Carnegie Mellon University's Tepper School of Business, directed Coro's Leadership New York program, and facilitated Leadership Pittsburgh's Leadership Development Initiative. He also gained valuable work experience at a countywide Chamber of Commerce and at the Philadelphia office of Booz Allen Hamilton, a worldwide management consulting company.

Seth holds a Master of Public Policy and Management from the University of Pittsburgh, and a Bachelor of Arts from Dickinson College. Other than his professional pursuits, Seth enjoys spending time with his wife, two sons, and good friends, talking public policy and politics, listening to music or seeing live shows, watching and playing international football, and exploring the urban fabric of cities.